Award recognizes the High School's innovative Career Technical Education and Work Based Learning Program 
Bound Brook High School's Career Technical Education and Work Based Learning Program was recognized as part of the New Jersey School Boards Association's Annual School Leader Awards, which showcases creative and effective programs from New Jersey schools.
Since starting in 2019, the CTE and WBL Program has become a robust college and career readiness program that has helped place Bound Brook students in top universities, including Harvard, New York University, and Drexel, and placed them in internships and jobs with cutting-edge industry partners, such as Phoenix Tube, Flexbiosys Inc., Chelsea Assisted Senior Living, and Custom Alloy. 
"The NJSBA's School Leader Award shines a spotlight on what we have always known: Bound Brook School District is leading the way in preparing students for future success," said Superintendent Dr. Alvin L. Freeman. "The staff at Bound Brook High School pour their hearts into preparing, mentoring and guiding our students through the college and career process. This award recognizes that commitment and is for you!" 
This year, the judges of the 2022 School Leader Awards selected one school district for exemplary program recognition and five recognized programs, out of 19 entries. Bound Brook School District was one of the five recognized programs.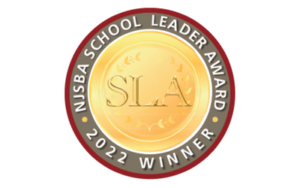 Entries for the School Leader Awards were judged on the level of innovation, how well the program addressed specific needs of students, and the relationship of the program to the New Jersey Student Learning Standards and results. 
Bound Brook will receive a plaque at an upcoming county school boards association event and will be featured in a future issue of the School Leader magazine, a publication of NJSBA. 
In the fall of 2019, Supervisor William David Ross started Bound Brook's CTE and WBL Program. David LePoidevin, industry consultant, helped expand the program in the fall of 2021. The program provides college and career readiness in vocational training, specifically "high needs" STEAM careers, and connects students with higher education and career resources to facilitate their transition to careers and colleges. 
"In only a few short years, we have graduated many students from Bound Brook High School's CTE/WBL Program who are a step ahead in their preparations for higher education and robust careers," said Ross, the program's supervisor. "Our students prove every day that they can do anything they put their minds to, and they are truly the reason the CTE/WBL program is a successful, award-winning model." 
In the CTE/WBL program, students learn skills and acquire industry credentials that are translatable between companies and career pathways, especially in the disciplines of computer science, advanced manufacturing, auto mechanics, cosmetology, Heating and Air Conditioning (HVAC), and healthcare/fitness education.  
This early career-partner and college education model also introduces students to professional networking and allows them to work with CEOs and employees of businesses in order to improve their understanding of industry opportunities and potential career trajectories. 
Students benefit from supportive mentorships, job shadowing with industry partner leaders, as well as paid and unpaid student work placements to begin their career pathway during high school. In these dual credit courses, internships, and apprenticeship placements, students develop skills in real-time jobs with industry partners.  
"None of this would be possible without the support of the Bound Brook School District and our industry partners who are equally dedicated to our students," said LePoidevin. "They have chosen to invest in our students, knowing that they will someday be the next generations of industry leaders." 
The program is made possible through funding by the district, Raritan Valley Community College P-Tech, Perkins, and College Readiness Now grants, Amazon Future Engineer grant, and a generous donation by an industry partner.