Project Graduation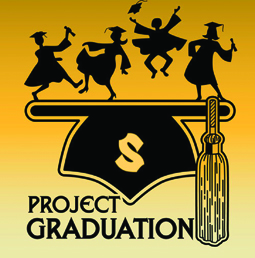 Project Graduation is an 100% FREE, FUN, SAFE celebration for the current graduating class of Bound Brook High School. This event provides graduating seniors a place get together, celebrate their graduation, and get together for one last time as a class, without the risks of alcohol and illegal substances. At this time, we are working with our vendors to find safe and alternative avenues to hold Project Graduation 2021.
Students will enjoy inflatables such as the Bungee Run, Gladiator Jousting, and the Obstacle Course. Then, students will be
mesmerized
by a hypnotist. Throughout the night, a variety of snacks and drinks will be available including pizza, Buffalo Wild Wings, chips, soda, water, etc.
If you have any other questions please email either Project Graduation advisor,
Matt Hueston in BBHS room 104 or Lee Casperson in BBHS room 208
Monetary Donations:

Project Graduation is an expensive undertaking. We need to raise at least $6000. In order to help reach our goal, we greatly appreciate donations from the community. Any donation, great or small, is a help to reach our goal in order to hold this function for our graduating seniors.

If you are willing to donate, please make a check payable to Bound Brook High School. Checks can be delivered to Mr. Hueston at the high school in room 104. Donations can also be mailed.

Attn: Matt Hueston

111 W. Union Ave.

Bound Brook, NJ 08805

Amenities Donations:

We understand that some cannot make monetary donations. However, if you would still like to contribute, Project Graduation will accept a variety of amenities that will assist in lowering the costs of the event. A list of some amenities needed are:

- Bottles of Soda and other Beverages

- Deserts and Baked Goods (Cupcakes, Brownies, Cake, etc.)

- Paper Products (plates, cups, napkins, etc.)

Any amenities donations will be greatly appreciated. As Project Graduation approaches, amenity donations can be dropped off with Mr. Hueston in BBHS room 104 or with Mr. Casperson in BBHS room 208.